They've been the themes for our cre­ative work this week.
Wednesday's art group looked at Monet's 'The Thames below Westminster'.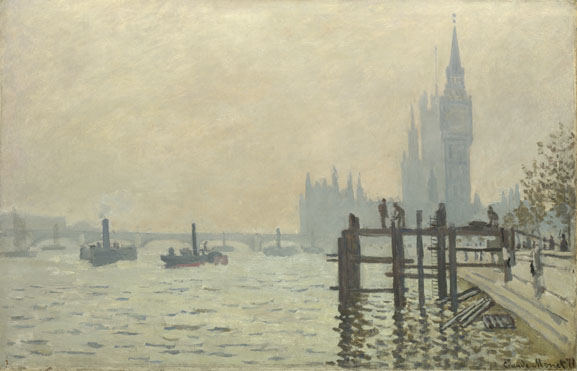 Look­ing at the con­trast between the sharp fore­ground and the misty back­ground the activ­ity was to draw a 'soft' back­ground using soft pas­tels with a sharper fore­ground using oils.  The idea was to do any scene they wanted.
Sam's is a back­ground of space and plan­ets with a space­ship in the foreground.
Here is his pic­ture study and review on last week's subject.
Later in the week we looked at another paint­ing.  Geor­gia O'Keeffe's Poppy.  Partly to con­trast with Monet's Wild Pop­pies, partly to com­ple­ment our work on WW1 and remem­brance, but mostly because I love it.
This is sketched with chalk on a square can­vas and then coloured with soft pas­tels.

Final burst of cre­ativ­ity was today.  Jack fin­ished school at lunch time so we spent a relaxed fam­ily after­noon in the local pot­tery paint­ing shop mak­ing Christ­mas presents and decorations.